After A Hangover Day, for the party in cartagena, what do I do? ask for a good breakfast and have a Bonfiest to cure you of the hangover, Bonfiest, to cure you all the discomfort of the hangover.
And ask your villa host to get you coconut water, which is very popular in Cartagena, so your villa is in the historical center, and it is elementary to get it.
So afterward, you will feel better and with the energy to continue the party, but what if you were on the islands yesterday giving it all in color.
Still, you want to go with your group to a quieter place but enjoy the sun, the beach, and the excellent music.
So I made you this small list of places where to enjoy and know what to do for a day of hangover.
First recommendation, what to do after a hangover day ?
You are exhausted at the beginning of Today in the morning, so you are lying in bed, recovering, but you want to keep the party going.
You came to Cartagena to have an epic time.
So be at home or your hotel, ask for a good breakfast and a Bonfiest.
It's a drink with half a glass of water, stir it, and you're ready. It's similar to the blowfish.
On the other hand, tell your Concierge to get you coconut water. That is very popular in Cartagena, so you are at home in the historical center.
In this way you will feel better and with energy to continue the party, but what do I do if you were in the islands yesterday giving it all in cholon, but you want to go with your group to a quieter place but, enjoy the sun, the beach, and the excellent music.
If you come from a Bachelor party is perfect for you, or in cartagena on vacation, After A Hangover Day.
Which can I go to after a undertow?
So I made you this small list of places where you can enjoy and know what to do with a day of hangover.
Makani – Luxury Beach Club:
After your hangover day, do you want to experience a luxury beach club near cartagena? Just 10 minutes away from cartagena, this french Polynesian-style place.
It offers you an almost personalized service away from the noise.
a large swimming pool with an incredible view of Cartagena.
A sunbathing area, VIPs zones, and a restaurant that makes every experience in the place worthwhile.
Bora Bora: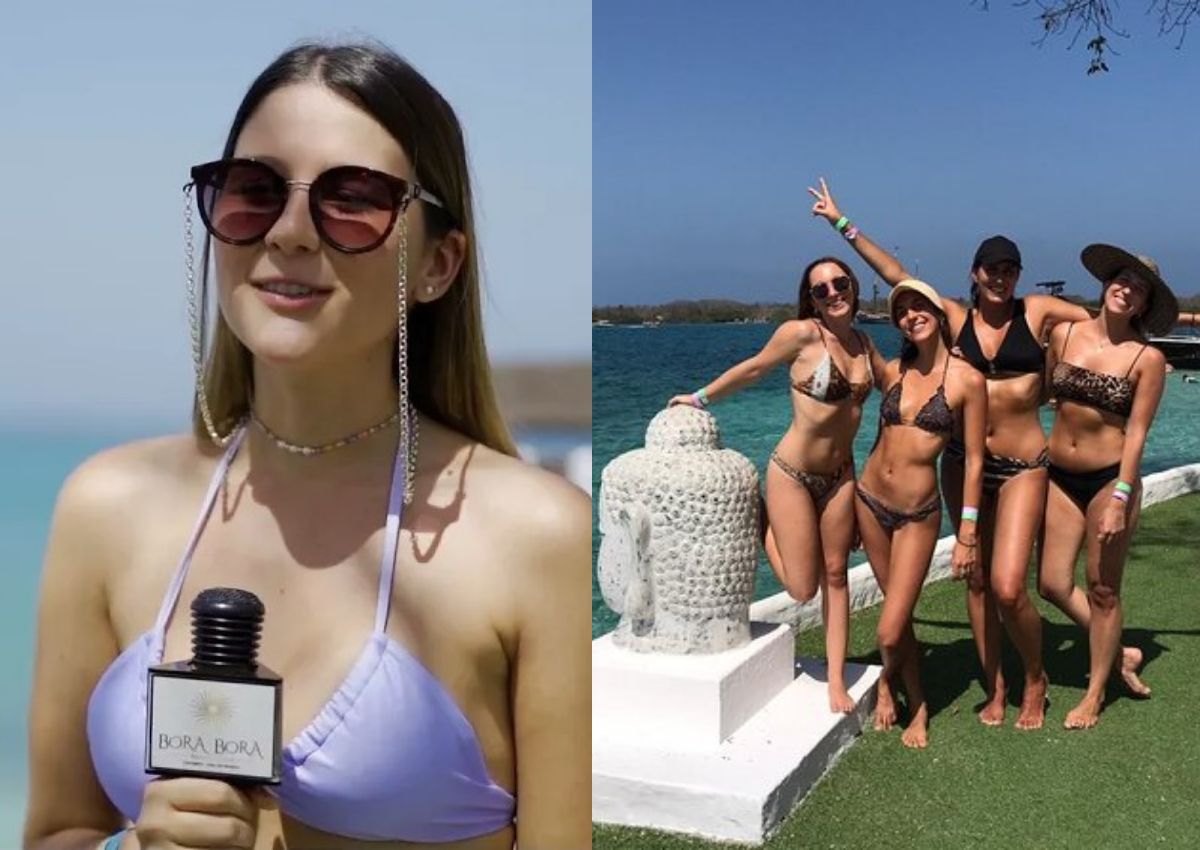 Favorite place for Bachelor party groups, there are two rooms, but we recommend a 100% VIP area, lots of atmospheres, and many single women looking to meet and have a good time.
To take into account an hour from Cartagena by boat, it is near Cholon if you go in your private yacht you can arrive at the time you want, make your reservation in advance.
Live a new adventure in a boat just 15 minutes from Cartagena. You will find this place that will recover its bohemian style.
The attention as you like it so that you will have a bed for you in front of the sea and a welcome cocktail.
So this place will make you full of energy and if you are exhausted, then choose the bed that is further away from the live DJ, and you can clear your mind away from the noise and let the breeze and the sun accompany you.
I recommend you make your reservation because the place is hectic if you go on a weekend when more tourists are there.
A beach club here in cartagena that I don't have to go to by boat.
The beach club is located in cartagena, just 10 minutes from the historic city, this place where you will enjoy the sunset, the pool, direct access to the beach, and delicious typical Colombian food.
The DJ with live music will make you feel completely relaxed.
The day includes the use of the facilities so do not think about it, we help you with whatever you need, we make the reservation at the place, don't worry you can arrive when you want.
I recommend that it is from 1 pm since from time your body will be recovering.
You want to go to a beach club to spend your hangover day, but most of them are outside of Cartagena. Unfortunately, some are inside the city.
Fortunately, there is a beach club in Cartagena in the north zone (Bocagrande), 5 minutes by car from the historical center. Wala Beach (insert backlink)
It has Direct access to the semi-private beach, jacuzzi pool, and a refreshing piña colada you'll want to try.
At about 5 pm, the DJ arrives.
Wow, what! Dj live, like Today, with a relaxing music session for your ears, chill house style (live DJ – on weekends).
 Massage:
In all the beach clubs mentioned above, they offer massage services, the prices are from 40 USD – the half hour, so it would be a perfect thing for your body to recover from your hang over a day.
When you arrive at the beach club, please make your reservation or ask your Concierge or person in charge to give you detailed information about the types of massages they offer.
What food do I order if nothing happens?
Unfortunately, you haven't been feeling well during the day, but you arrive at the beach club, and between the sea, the breeze, and the party atmosphere, your body asks for something to eat, order a sancocho.
Sancocho (fish chicken meat) of any of these proteins will make you feel much better, and it is a kind of hot soup accompanied by panela water and lemon.
As a result, your body will thank you for your after-hangover day, a cold beer.
What types of beers do we have in Colombia? First, of course, you can get the most famous Stella, Corona.
After all, if you come to Colombia and want something different, we recommend these local beers.
– Club Colombia – Dorada:  Colombia's premium beer, lager type, balanced flavor between malty barley and caramel malt.
– Aguila: classic lager beer, representing the joy of the Colombian people.
– Aguila light: with a flavor similar to bud light, it is refreshing and with less content than the other two mentioned above.
– BBC: craft beer uses only natural ingredients.
Where can I go after returning private club for chill?
For example, you came back from the beach club to cartagena and want a place to continue enjoying cartagena. After A Hangover Day. The hangover is gone.
It's around 5:30 pm, and you are in the historic center. Well here are three places you can visit.
Mirador de la Torre de Reloj: Located in front of the clock tower. You don't need a reservation here if you arrive at that time. Instead, go up to the rooftop and appreciate an incredible view of the northern part of Cartagena.
Café del mar: the place is hectic. No reservations are allowed. You want to visit it. We can help you and make the line for you while you arrive with your friends to enjoy the sunset.
Donde Fidel:
PHOTOS 
From the inside of the clock tower, if you turn or ask for this place, you are less than 30 seconds walking. For salsa lovers, tables on the street, and you can watch the people passing by.
6. How do I make reservations?
If you are a foreigner in Cartagena and speak little or no Spanish, let us help you make reservations or reserve a comfortable space where you can enjoy yourself.
Don't stress. We know that communication is not accessible, but we will do it for you and for your experience to be optimal. Why not hire a Concierge service? We will be there all day for whatever you need.
Time is valuable to you, and we know it. That's why we offer you the Concierge option. With more than eight years of experience in the field, our allies in different places will help us with incredible speed in what you request.
Call us or leave us a message (iMessage): + 57 304 332 8515
Please send us an email: info@classycartagena.com
 I want some headache medicine.
PHOTOS ADVIL OR VICK VA PO RUB
Is the headache intense? But what can I take? I could tell you acetaminophen (Dolex or Advil), but also keep in mind if you are allergic to these medications.
Check or read what is in each of them, or you can put together a topical ointment called Vick vapor rub. Your Concierge or the house or hotel staff will help you get it.
Take along a couple of serum (Pedialyte) or electrolytes for the beach club, as those places are hard to get.
But keep in mind that if this does not improve, see a doctor as soon as possible.
How do I request a home doctor service that speaks English?
DOCTOR PHOTOS 
Finally, you've tried everything and followed the recommendations, and you're still as bad or worse, and you're thinking about going to the doctor.
Therefore, that's fine with me, health first, but we offer you a home doctor service that will come to your home and hotel and will be able to give you a diagnosis, plus he speaks basic English.
So, you don't have to go to the hospital.
The doctor will go to where you are